What is a cataract?
A cataract is clouding of the natural lens inside your eye.  Developing a cataract is not usually painful and will not irritate your eye but a cataract will cause your vision to become cloudy or misty.
Cataract is a common eye condition which usually develops gradually over time.  Cataract can happen at any age but usually develop as you get older.  They can also be caused by other factors such as certain health conditions, medication, smoking or trauma.
Treatment of cataract will enable you to get back to doing what you love day to day without the associated vision difficulties, which may affect even normal daily activities.
What is cataract surgery?
Cataract surgery removes your cloudy natural lens and replaces it with a clear plastic lens (a lens implant). This is done through a small cut in the tough wall of the eyeball (the cornea or sclera). The implant usually goes in the lens capsule, which is left in its original place in the eye. The cut usually seals by itself, but some patients need a stitch. The stitch either dissolves or is removed at a later clinic visit.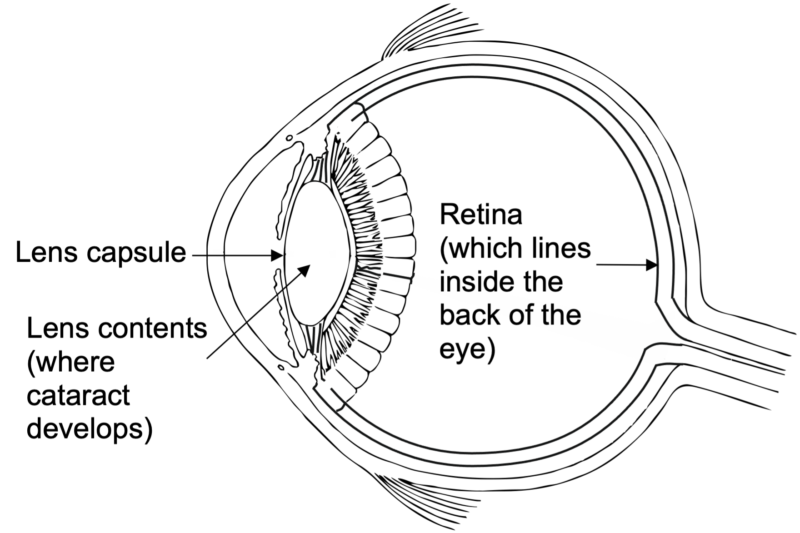 The alternative to having cataract surgery is to continue managing as you are. A change of glasses sometimes helps but your glasses may need to be changed more frequently.
Cataracts will progress but the speed of this progression will vary. The effect on vision will also vary but usually gets worse over time as cataracts progress. The cataract operation may become more difficult if delayed for a very long time.
What are the intended benefits of cataract surgery?
The obvious benefit is greater clarity of vision.
Some people also become less dependent on distance glasses.
Glasses after cataract surgery
Most people still need glasses after cataract surgery. The chance of not needing glasses after cataract surgery depends on many things. These include your personal vision requirements, the presence of any astigmatism and the choice of lens implant (monofocal, toric, multifocal, or monovision). This will be explained to you by your surgeon.
Most people having cataract surgery already have different distance and reading glasses prescriptions. They can be separate glasses, bifocals or varifocals. If cataract surgery (using a monofocal lens implant) corrects your distance focus without glasses then you should still expect to need reading glasses for near focus.
Cataract assessment clinic
At the cataract assessment clinic visit, precise measurements are made of the length of your eye and the curve of your cornea. The measurements will be compared with your distance glasses or contact lens prescription. They are used to calculate a lens implant for you, according to your preferred outcome.
The measurements must be made without any influence from contact lenses, if you use them. This is why it is important to remove contact lenses at least two weeks before the assessment visit.
It is also important to tell your surgeon if you have ever had corrective laser eye surgery as it is usually not possible to detect this by looking at the eye. Laser correction upsets the implant power calculations.
You should decide in what situations you don't mind wearing glasses or contact lenses and discuss this at the clinic. Take as much time as you need to consider this, even if it means you cannot decide on the day. Talking about this with your own optician can help if you remain unsure.
Lens implants
Lens implants can be made to most prescriptions so it is possible to correct long or short sight at the time of cataract surgery. Special (toric) lens implants, which correct astigmatism, are available but not always funded by health insurance policies. Similarly, special (multifocal), lens implants, which correct the need for glasses of any sort, are also available at extra cost. Multifocal implants can cause glare and haloes in the vision so are not for everyone.
To be completely free from glasses or contact lenses after cataract surgery a compromise has to be made. One eye can be focussed for near and the other eye focussed for distance. This is called monovision, with a monofocal lens implant in each eye. With both eyes open, one or the other eye will always be blurred.
Alternatively, a multifocal lens implant can be used. These lenses are not like bifocal glasses (where you choose which element to look through for best focus) because they simultaneously give the eye a focussed image when viewing near objects (from the near lens element) with a blur from an out of focus image (from the distance lens element) on top of it, and vice versa when viewing distant objects. Glare and haloes are the result, which can be bad enough for patients to ask for multifocal implants to be removed.
There is a third type of intraocular lens implant, known as an extended depth of focus lens (EDOF).  These have been designed to give clear distance and intermediate vision, but reading glasses are needed for prolonged near activities.  Some EDOF lenses cause less glare and haloes than multifocal lenses.
Recovery after cataract surgery
After cataract surgery you can return to normal activities, but you will need to take it easy and rest on the day of the operation.
Immediately following cataract surgery, you will experience some initial blurring of vision and some redness may be present.  You can expect your vision to improve over the following 24 to 48 hours however in some cases it is not unusual for your vision to remain blurred for up to a week after surgery, but you should expect gradual improvement over that week.
It is normal to experience some mild discomfort following cataract surgery.  Your eye may feel gritty or scratchy and your operated eye may be sensitive to bright light for a few weeks.
You will go home with post operative eye drops which need to be administered for 28 days and you will be given an appointment with your consultant between one and four weeks after your operation takes place.
What are the possible complications of cataract surgery?
The majority of patients undergo cataract surgery without serious complications and are pleased with the result.  As with most surgical procedures however, there is an element of risk involved with cataract surgery and this will be discussed fully with you by your consultant.